Library, Villeurbanne, France, Interior rear elevation
1984
Mario Botta

Colored pencil on print
30⅜ x 46½"


Library in Villeurbanne, France 1984-1988

Competition project: 1984
Construction: 1985-1988
Client: City of Villeurbanne
Site area: 5400 m²
Useful surface: 5580 m²
Volume: 18000 m³

The building is set within the continuous urban façade fronting the avenue Emile Zola. The entrance façade projects itself forward with respect to the glass brick surfaces connecting with the neighboring buildings. A deep vertical cut forms two symmetrical walls, in whose corners the stairwells are set. The pattern of the street façade, clad in alternated coloured bands of stone, is also present in the cylindrical volume on the rear courtyard. As on the street façade, the cylindrical volume at the center is detached from the surrounding buildings by means of connecting bodies faced with glass bricks and steel. The interior space presents a central cavity, rising up from the ground floor to the roof. It creates a sort of light well made of concentric rings, around which the reference rooms are located and from which the glassed-in volumes containing the librarians' desks emerge. —Mario Botta Architetti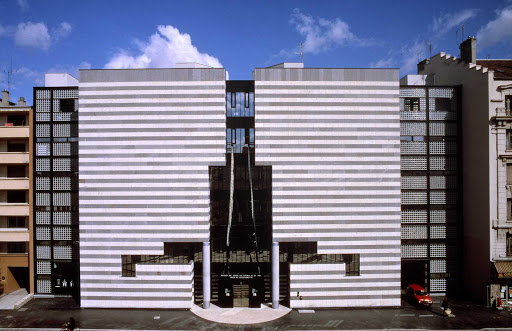 Other side of the library.



Interiors of the library.



Library section and plans.


📷 MoMA & Mario Botta Architetti